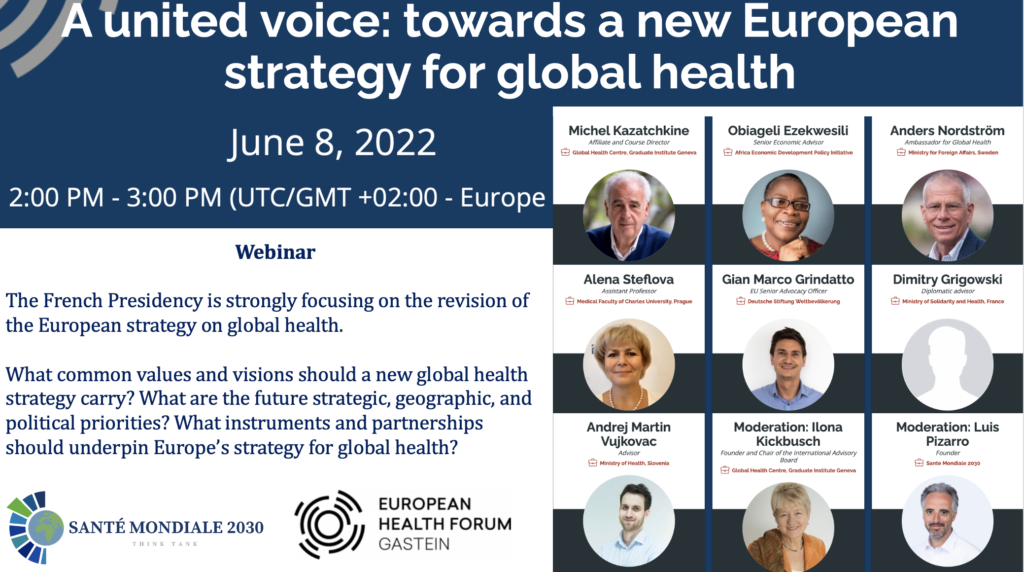 👉 Inscrivez vous ici
A United Voice
Towards a new European strategy for global health
Webinar I 8 June 2022 I 14:00 – 15:00 CEST
The French Presidency is strongly focusing on the revision of the European strategy on global health. The global geopolitical, economic, and environmental context has changed dramatically since its previous publication in 2010. We have faced numerous global challenges, including conflicts, financial crises, and the health emergencies of Ebola, SARS and COVID-19; whilst on the positive side the global community has successfully undertaken the establishment of the Sustainable Development Goals and the Paris Climate Agreement.
It is essential that European Member States are unified in actively supporting global health governance and solidarity, bolstered by a renewed and comprehensive strategy relevant for the health of all the world's citizens. What common values and visions should a new global health strategy carry? What are the future strategic, geographic, and political priorities? What instruments and partnerships should underpin Europe's strategy for global health?
The webinar is organised in close cooperation between European Health Forum Gastein and Santé Mondiale 2030, supported by the French Ministry of Solidarity and Health. If you have any questions for the speakers, ask them during registration, during the event via the webinar Q&A function, via email to info@ehfg.org or tweet @GasteinForum with #EUGlobalHealthStrategy.
Register here